Hawker Tempest MK V
Hawker Tempest MK V    NV724   JF-E   3 Squadron,
Flt  Lt   Pierre Closterman, DSO, DFC*  Spring 1945
The Tempest was a considerable aerodynamic refinement of the Typhoon, its new wing in particular giving a marked improvement in performance with the same Napier Sabre engine. Issued initially to 3 Squadron in April 1944 the Tempest was used on interception duties, and by the summer it was in the forefront of the battle against the VI flying bombs.
Tempest Mk V NV724 was a Series 2 aircraft produced by Hawker Aircraft Ltd and differed in many subtle ways from the earlier Tempest Mk V Series 1. Perhaps the most obvious change from previous Tempest Mk V was the lack of protruding cannon from the leading edge of the wing.
During spring of 1945 3 Squadron continued to support Allied troops in the advance through Europe, one of the Squadrons most successful pilots was the young frenchman Flt Lt Pierre Closterman. After seeing extensive combat in Spitfires with the Free French 341 'Alsace' Squadron and 602 Squadron Closterman joined 274 Squadron in March 1945 before moving to 3 Squadron. He enjoyed immediate success with the Tempest Mk V, downing a Bf109 while undertaking a 'cannon test'. Closterman flew several Tempest Mk Vs but NV724 is perhaps his most colourful, bearing the name 'Le Grand Charles' and with 32 crosses (23 black confirmed victories and 9 white probables).
NV724 also carries the Squadron badge on the tail a cockatrice on a monolith and the moto 'Tertius primus erit' – 'The third shall be the first', approved by King George VI in September 1937. The cockatrice was chosen because in mythology it was the first creature to fly this is a reference to the fact that No 3 Squadron, RFC, was the first to be equipped with heavier-than-air machines.
After the war Closterman wrote the gripping and atmospheric book 'Le Grand Cirque', published in English as 'The Big Show' which recounts his life in World War II. Closterman also became diplomat, an executive for Dassault and Cessna, and served briefly on operations in the Algerian war of early 1960's.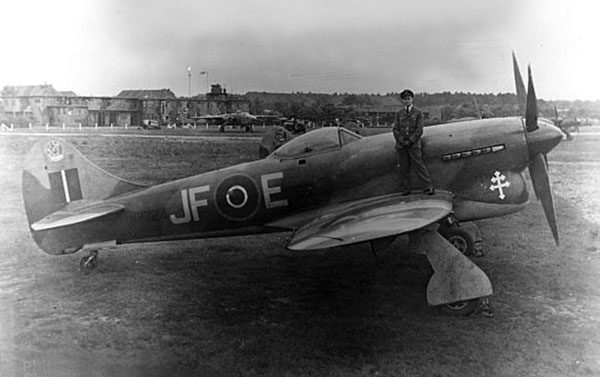 Scale 1:72    Wingspan 7″ (178 mm)
Base size 7.71″ (196 mm) square (No. 5)
Weight not including base 11 ozs (311 grams)    Limited edition of 25 only
 Price £99.00 plus delivery