Hawker Tempest Mk II
Hawker Tempest Mk II    PR685   XC-U
26 Squadron 2nd TAF,   Fassberg Germany,   1947.
The Tempest – originally the Typhoon II – was designed with alternative engines, and the contract for five hundred of the Mk II powered by the Bristol Centaurus sleeve-valve radial engine was originally placed with the Gloster Aircraft Company. Production of the Mk II was delayed by problems with the Centaurus, and by the time they were overcome Glosters found themselves too involved with the early Meteor Jet fighter, and it was therefore the Bristol company that was given responsiblity for the production of the Tempest Mk II. In the event only fifty came from Bristols, and Hawkers themselves produced the rest at Kingston.
The Tempest Mk II was initially selected to equip a fifty-strong fighter wing for "Tiger Force", that was being readied for the Far East and the final assault against Japan, which became unnecessary following the use of atomic bombs on Hiroshima and Nagasaki; Wg.Cdr. Roland Beamont, who had been a notable Tempest Wing leader on the Sabre-powered Tempest Mk V, was due to lead this Wing. Two UK-based squadrons, 183 and 247 received Tempest Mk IIs in August 1945, and 183 was swiftly re-numbered 54; these were to be the only squadrons in the UK to fly this mark, and they carried special markings of a white ring on the front of the cowling and white bands across vertical and horizontal tails to avoid mis-identification. These were very similar to the markings carried at the end of the war by RAF fighters in South-East Asia.
The Tempest Mk II equipped Germany-based fighter squadrons of the British Air Forces of Occupation, and 26 replaced their Spitfires with the Tempest Mk II at Fassberg from January 1947; later they moved to Gutersloh, where they were in turn re-equipped with Vampires at the end of 1948.
Tempest Mk IIs were supplied to the Indian and Pakistani air forces, and also served with the RAF in India and Hong Kong, and in Malaya where they were used in operations against the insurgents.
Tempest Mk II PR685, one of the Kingston-built aircraft, as well as carrying 26's identifying code letters XC, also wore the squadron badge of a springbok's head on the fin; the blue tip to the spinner showed that it belonged to 'B' Flight. Like many Tempest Mk IIs it had the ability to carry rocket projectiles under the wings.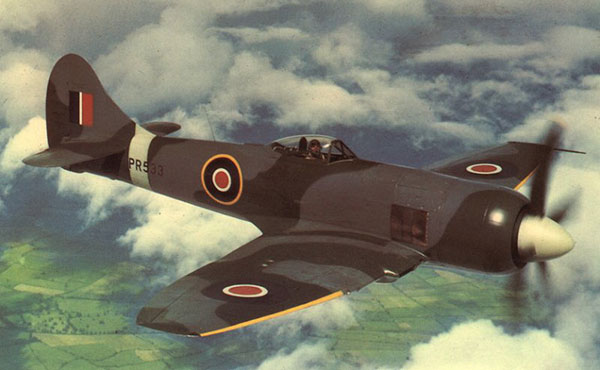 Scale 1:72    Wingspan 7″ (178 mm)
Base size 7.71″ (196 mm) square (No. 5)
Weight not including base 11.5 ozs (332 grams)    Limited edition of 50 only
 Price £107.00 plus delivery