de Havilland Mosquito NF Mk II
de Havilland Mosquito NF Mk II    DZ230    YP-A
Wg.Cdr. P Wykeham-Barnes,   23 Squadron,  1943,   Malta.
The first RAF production contract for the de Havilland Mosquito called for fifty aircraft under specification B.1/40, the first, W4050/G, to be configured as a bomber but with other variations to be included to carry out alternative roles. W4050 was built in conditions of secrecy at Salisbury Hall and flown from Hatfield by Geoffrey de Havilland Jr on 25 November 1940; the third, W4052, was completed as a fighter, which as well as an optically-flat windscreen for the cockpit included strengthening of the wing centre section and to take account of the provision for four 20 mm cannon below the cockpit floor and four .303" machine guns in the nose. Turret armament was considered, with two aircraft completed with mock-up installations, but was not carried through.
Tests at Boscombe showed that the fighter was slightly slower than the bomber, but this was accounted for by the flat windscreen and the incorrect application of the "smooth night" black finish. W4073 was the first Mosquito to be delivered to a fighter squadron, the newly-reformed No. 157 at Castle Camps, in January 1942 serving initially as a trainer; the squadron was declared operational on 27 April, and the first victim claimed on 27 April when Sqn.Ldr. Ashfield scored a "probable" Do 217. The first confirmed victory was on the 27 August. In the meantime 23 Squadron had received Mosquitos at Ford on the south coast, supplementing and then replacing Havocs and Bostons and being fully re-equipped by August. With its new aircraft it pioneered long-range night intruder tactics, but was withdrawn from operations at the beginning of December, receiving fresh aircraft fitted with overload fuel tanks preparatory to moving to Malta; assembling at Portreath on 23 December, they left on the 27th flying in groups of six via Gibraltar and Maison Blanche to Luqa.
Wing Commander Peter Wykeham-Barnes had taken command of the squadron in September and led the deployment overseas, and it was he who flew the first operational sortie in its new theatre on 29 December over Sicily flying DZ230 YP-A, which wore his personal emblem on the nose. The squadron's first Mediterranean success was on 7 January, Sqn.Ldr. Starr destroying a Ju 88 of II/KG 30 over Comiso. Wg,Cdr. Wykeham-Barnes left the squadron in April 1943; DZ230 was written off following an overshoot at Luqa in June. By then the Mosquito VI was re-equipping 23, and it flew this mark until the end of the war, moving north with the invasion of Sicily and Italy using Sigonella and Alghero as bases; it returned to the UK at Little Snoring by 2 June 1944, where it disbanded in September 1945. Its association with the Mosquito continued when it was reformed at Wittering in August 1946 with NF.36s; these were replaced with Vampire NF.10s at the end of 1951.
After joining the RAF as a Halton apprentice in 1932, Peter Wykeham-Barnes subsequently became a cadet at RAF Cranwell, passing out in 1937 and joining 80 Squadron in Egypt to fly Gladiators. Remaining in the Middle East he was one of a group of ten pilots from 80 to form 274 Squadron, becoming a flight commander and then leading 73 Squadron before returning to the UK. After three months as an Air Fighting Instructor with the USAAF early in 1942 he went back to Hurricanes as CO of 257 Squadron at Honiley. He took over 23 Squadron with Mosquito NF.IIs, taking them to Malta at the end of 1942, returning home injured at the end of April 1943. He became OC of 140 Wing in 2 Group in 2nd TAF, leading twenty-four of their Mosquitos from 464 (RAAF) Squadron and 487 (RNZAF) Squadron on the operation to destroy the Gestapo headquarters at Aarhus in Denmark, for which he was awarded a bar to his DSO. After the end of hostilities he was posted to A & A E at Farnborough as Chief Test Pilot, where he was involved with early jets; and shortly after the outbreak of the Korean War he spent a month there attached to the USAF flying a number of night intruder operations on the B-26 Intruder, advising on the application of low level tactics. On his return he became Station Commander at North Weald and then Wattisham, followed by a succession of increasingly high level staff posts, becoming C-in-C Far East Air Force in 1964 followed by his appointment as Deputy Chief of the Air Staff in 1967, from which he retired in 1969.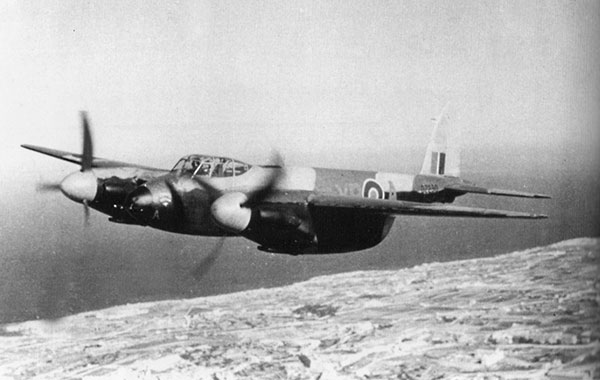 Scale 1:72    Wingspan 9.03″ (229 mm)
Base size 9.33″ (237 mm) square (No. 6) 
Weight not including base 1lb 3.9 ozs (564 grams)   
 Limited edition of 25 only
Price £120.00 plus delivery   Figures optional at £15 each.