Supermarine Spitfire Mk VB
Supermarine Spitfire Mk VB EP706 T-L
Plt Off George Beurling DFC DFM,
249 Squadron RAF, Takali, Malta 25th September 1942
The Mk V represents a significant stage in the development of the Spitfire. Having learnt from the success of the Mk I during the Battle of Britain the time had come to improve the breed. The Spitfire Mk II had begun the process and it was intended that the Spitfire Mk III was to become the new production aircraft. With revised flaps, engine wing and undercarriage development ceased when Rolls Royce produced the Merlin 45 engine which could fit with additional strengthening to the Spitfire airframe. The Merlin 45 was a Merlin XX engine without the low altitude supercharger. Designated the Mk V these new Spitfires had three wing variants A, B, and C. The A wing carried eight 0.303 machine guns, the B wing carried two 20mm cannon and four 0.303 machine guns and the C wing carried four 20mm cannon and four 0.303 machine guns. The VB variant was the most widely used as it provided the excellent balance in fire power without too great a weight penalty. Indeed many Spitfire Mk VCs had their outer cannon removed to save weight.
92 Squadron was the first to receive the new Spitfire Mk V in February 1941. Initially these were modified Spitfire Mk Is until new Mk Vs came from the factories. Modifications were constantly being made to improve the Mk Vs performance and rate of roll at low altitude. The fitting of a negative G carburettor prevented the engine cutting out during sudden dives and evasive manoeuvres. A new bulged canopy improved visibility and was fitted to all subsequent Spitfires. The Spitfire Mk VB was one of the most successful Spitfire variants with most fighter squadrons flying the Mk V by December 1941. This is surprising as the Mk V was only considered a stop-gap until something better came along. It was the first fighter version of the Spitfire to see service overseas and was supplied to several foreign air forces.
By 1942 the strategic importance of the small Mediterranean island of Malta had become highly apparent to both sides in the war. Its defence and security was of paramount importance to the allies. Early defence of the besieged island had been valiantly carried out by a handful of Hurricanes and Gladiators but reinforcements were urgently needed. On the 7th of March 1942 'Operation Spotter' was launched which saw the first Spitfires delivered to Malta. This was the first deployment of the Spitfire outside the United Kingdom. At dawn 16 Spitfire Mk VBs in tropical specification with additional fuel tanks took off from HMS Eagle near the coast of Algeria for the 660 mile flight to Malta. Further Spitfires were supplied to replace losses via USS Wasp which was employed after the direct request of Churchill to Roosevelt.
Several squadrons operated from Malta but it was 249 Squadron that had perhaps the most famous of pilots, Pilot Officer George Beurling. Beurling was born in 1921 in Verdun (now part of Montreal), Quebec into a religious family and was the third of five children in the family. His father, Frederick Gustav Beurling, was Swedish His mother, Hetty Florence Gibbs, was of English descent. George Beurling began to develop an interest in flying at the age of 6 when his father built him a model aircraft. He first took the controls of an aircraft in 1933 and was flying solo by 1938. He left school to work for an air freight company in Gravenhurst, Ontario, and soon gained a commercial license. At the age of 16, he had 150 flying hours and managed to pass all examinations for a commercial pilot license. Wanting to increase his flying experience, he went to China, hoping to join the Chinese Nationalist Air Force by crossing the US border. Eventually, he was arrested as an immigrant at the border and was repatriated back home. Beurling joined the Royal Air Force in September 1940. Having survived one or two aerial misdemeanours, Beurling reached No. 7 Operational Training Unit, at RAF Hawarden, in September 1941. Beurling demonstrated considerable skill in training. In Hawarden, he came under the influence of the great Ginger Lacey, whose score at the time stood at 27. Lacey later commented about Beurling: "There are not two ways about it, he was a wonderful pilot and an even better shot." These two factors, coupled with exceptional eyesight, were the keys to Beurling's later success. But they did not come without effort. At Hawarden, he immersed himself in gunnery, estimation of range, deflection, bullet trail and bullet drop, imprinting them into his subconscious until they were automatic. For him, flying and shooting became one single action. Beurling landed on the Malta on the 9th June 1942, after having flown off the deck of HMS Eagle aboard his Spitfire, during Operation Salient.His nickname on the island was "Screwball", an expletive he had a habit of using.
Beurling had his baptism of fire in the mid-morning of 12 June when, flying a Spitfire, with three other pilots from 249, the formation intercepted eight Bf 109s. Beurling claimed to have blown the tail off a Bf 109, but nobody saw it hit the ground, so he was credited with a "damaged". After that, Beurling claimed a series of kills that had no equal on the Mediterranean island. On the 6th of July 1942, with other pilots from 249, he attacked a formation of three Cant Z1007bis, 14 Reggiane Re.2001s and more than two dozen Macchi C.202s. He almost certainly shot down Sergente Francesco Pecchiari from 352a Squadriglia. Then he claimed another Macchi that crashed near Zejtun, likely the Reggiane of Sottotenente Romano Pagliani, 152a Squadriglia. He made a third claim that day, a Messerschmitt, hit from a distance of 800 yards and was credited with three victories in his first proper air battle at Malta. By the 14th of October Beurling had claimed his 27th and final kill over Malta. Having been shot down and wounded he was sent back to Britain on 31st of October 1942. On the way, the B-24 transport aircraft he was aboard crashed into the sea off Gibraltar. Beurling was one of only three survivors. On 4 November he received the Distinguished Service Order, the citation reads
Pilot Officer George Frederick BEURLING, D.F.C., D.F.M. (128707), Royal Air Force Volunteer Reserve, No. 249 Squadron.
Since being awarded the Distinguished Flying Cross, Pilot Officer Beurling has destroyed a further six enemy aircraft, bringing his total victories to 28. During one sortie on the 13th of October 1942, he shot down a Junkers 88 and two Messerschmitt 109s. The following day, in a head-on attack on enemy bombers, he destroyed one of them before he observed his leader being attacked by an enemy fighter. Although wounded, Pilot Officer Beurling destroyed the fighter. Then, climbing again, although his aircraft was hit by enemy fire, he shot down another fighter before his own aircraft was so damaged that he was forced to abandon it. He descended safely on to the sea and was rescued. This officer's skill and daring are unexcelled.
Over Malta, he had claimed over 27 kills in just 14 days, by far the highest total by an RAF pilot during the campaign. He finished the war with a total of 31 1/3 kills and is recognised as Canada's most famous hero of Second World War.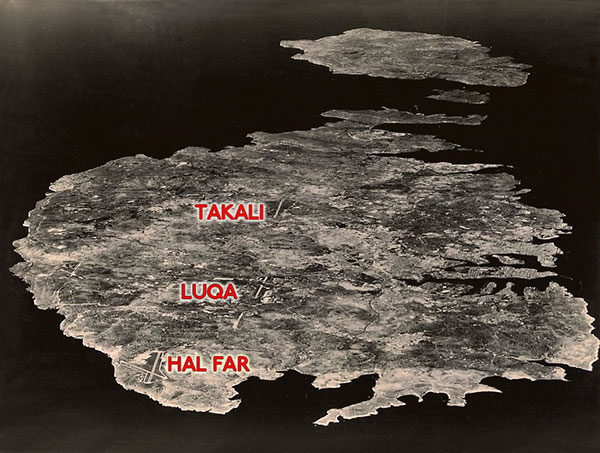 Scale 1:48    Wingspan 9.2″ (234 mm)
Base size 9.33″ (237 mm) square (No. 6)
Limited edition of 25 only
Price £159.00    Figures optional at £15 each.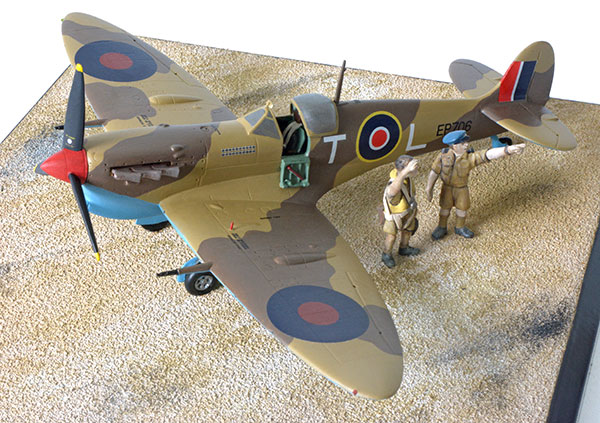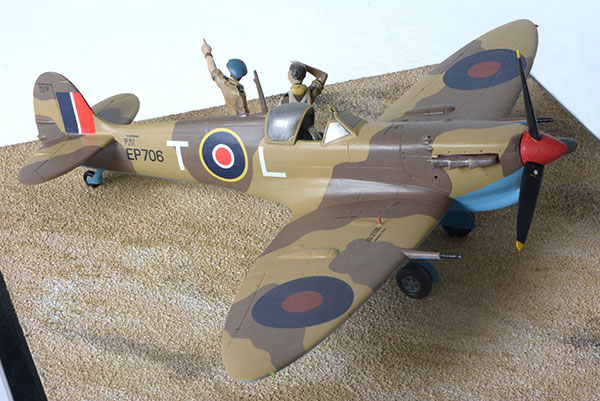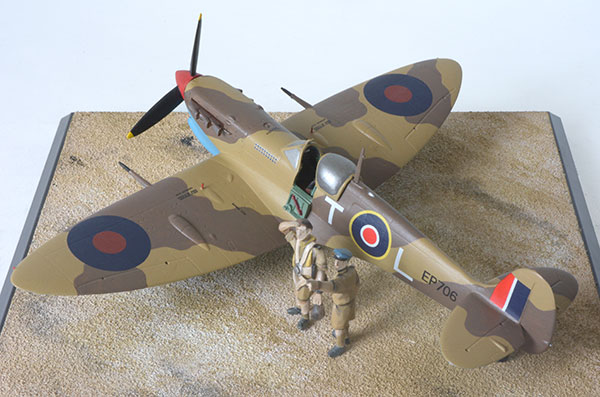 YOUTUBE FILM BELOW