Hawker Hurricane Prototype
Hawker Hurricane Prototype   K5083   F36/34,
Flt Lt. P.W.S. 'George' Bulman,
Maiden Flight,  November 6th 1935,   Brooklands Aerodrome.
By the early 1930s it had become clear that the age of the biplane was drawing to its close. Fighters such as the Gloster Gladiator and Hawker Fury marked the pinnacle of biplane design at the time. The speed, altitude and armament of these biplanes had all reached their zenith and it was time for something new. Concern over the increasingly dangerous political situation in Germany called for a new fighter that was not just another adaptation of an existing biplane design.
In Early 1934 specification F.5/34 was passed out to the British aircraft industry for an all new monoplane fighter armed with six or eight machine guns. Designs from Sydney Camm (Hawker) and R.J. Mitchell (Supermarine) were submitted and encouraged to be developed further for the new single seat high speed monoplane fighter. R.J. Mitchell's design was designated F.37/34 and became the legendary Spitfire while Sydney Camm's F.36/34 became the Hurricane. Both aircraft were to be powered by the new Rolls-Royce PV.12 engine, later to be named the Merlin. While R.J. Mitchell's design utilized the latest stressed skin construction Sydney Camm referred back to his earlier biplane construction techniques for the new fighter. His aircraft had a fuselage with a steel tube skeleton over which a wooden frame was constructed finished with doped canvas. The wings had an all metal structure which was again covered in doped canvas. This may have seemed a step backwards to many at the time but in combat situations enemy fire passed through the aircraft leaving damage which could be repaired quickly and easily, compared to the Spitfire.
In August 1935 the aircraft (designated K5083) was structurally completed at the Hawker factory at Kingston upon Thames. The Rolls Royce PV.12 engine was installed but armament was not available so ballast and an additional fuel tank added. The aircraft was delivered to the assembly shed at Brooklands in Surrey on the 23rd of October and a further 200lbs of ballast was added to simulate the radio equipment. Ground running tests and taxying trials began with Chiet Test Pilot Flt Lt P.W.S. 'George' Bulman at the controls. Bulman finally took to the air, from the grass strip, in the new fighter on the 6th of November 1935 as always wearing his trilby.
Over the following months problems were found and resolved and like and prototype the aircraft continued to evolve until on February 7th 1936 when Bulman was satisfied the new aircraft was ready for evaluation by the Royal Air Force. RAF testing took place at Martlesham Heath between the 18th and 24th of February only hampered by minor faults with the powerplant. The worsening international situation (Abyssinian Crisis) and favourable rumours led Hawkers to begin planning for production. They were not disappointed and on the 3rd of June 1936 an initial order of 600 aircraft was placed. Later that month the name 'Hurricane' was given to the new fighter by the Air Ministry.
The Hurricane prototype K5083 was the first of 12,711 Hurricanes to be built in Britain. Often seen as the Spitfire's poor relation the Hurricane played a crucial role in the 'Battle of Britain' and was developed for many roles, serving in all theatres of the Second World War.
Sydney Camm was born on August 5th 1893 at 10 Alma Road in Windsor, Berkshire, the eldest child of the twelve children of Frederick Camm, a carpenter/joiner and Mary Smith. In 1901 he began attending the Royal Free School in Windsor. He was granted a Foundation Scholarship in 1906 before leaving school two years later to become an apprentice carpenter. Camm developed an interest in aeronautics and with his brothers and began building model aircraft which they supplied to boys at Eton College. These activities led him to being one of the founders of the Windsor Model Aeroplane Club in early 1912. His accomplishments as a model aeroplane builder culminated in a man-carrying glider which he and others at the club built in 1912. Shortly before the start of the World War I Camm obtained a position as a shop-floor carpenter at the Martinsyde aircraft company which was located at the Brooklands racing circuit in Weybridge, Surrey. His ability soon led to his being promoted to the drawing office, where he spent the war period. In November 1923 Camm joined the Hawker Aircraft Company based at Canbury Park Road in Kingston upon Thames as a senior draughtsman. His first design was the Cygnet, the success of which led to his being appointed chief designer in 1925.During his employment at Hawker he was responsible for the creation of 52 different types of aircraft, of which a total of 26,000 were manufactured. Among his early designs were the Tomtit, Hornbill, Nimrod, Hart and Fury. At one time in the 1930s 84 per cent of the aircraft in the RAF were of Camm design. He then moved on to designing aeroplanes that would become mainstays of the RAF in the Second World War including the Hurricane, Typhoon, Tempest and Sea Fury. After the war he worked on two more great British aircraft the Hunter and Harrier. Camm was President of the Royal Aeronautical Society(RAeS) from 1954 to 1955. Since 1971 the RAeS has held the biennial Sir Sydney Camm Lecture in June, given by the current commander-in-chief of RAF Air Command. Camm retired as chief designer at Hawker in 1965 and was succeeded by John Fozard. He, however, remained on the board of its successor, Hawker Siddeley until his death.on March 12th 1966. Before he died, Camm was planning the design of an aircraft to travel at Mach 4, having begun his life in aircraft design with the building of a man-carrying glider in 1912, just nine years after the first powered flight.
Group Captain Paul Ward Spencer "George" Bulman CBE, MC, AFC (2bars) FRAeS began his flying career in the First World War during which he was awarded the Military Cross when with No3 Squadron, RFC. He held a permanent commission after the war and began his test flying career at RAE Farnborough. His greatest work was with Hawker Aircraft, which he joined in 1925. In due course he was to become its Chief Test Pilot and a Director of the company. For 20 years he worked closely with Sydney Camm before finally retiring from the aircraft industry in 1945. He died on 6 May 1963 aged 67. He became known as "George" because he had a poor memory for names, and so tended to call everybody George. When friends and colleagues called Bulman "George" in response, the nickname stuck.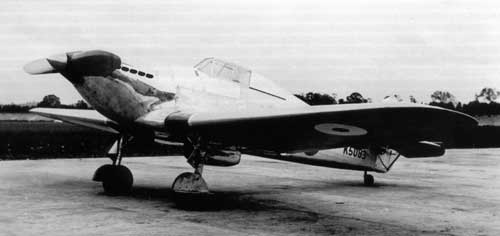 Scale 1:48    Wingspan 10″ (254 mm)
Base size 9.33″ (237 mm) square (No. 6)
Limited edition of 50 only
Price £159.00    Figures optional at £15 each.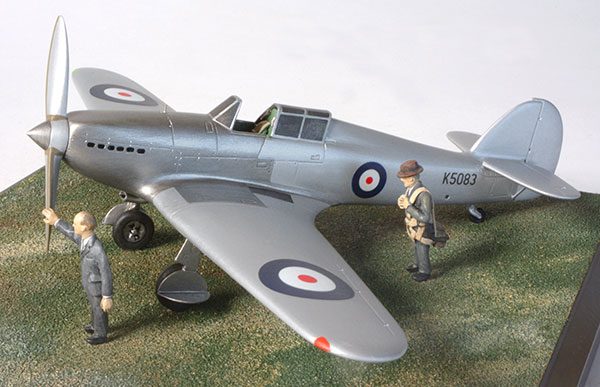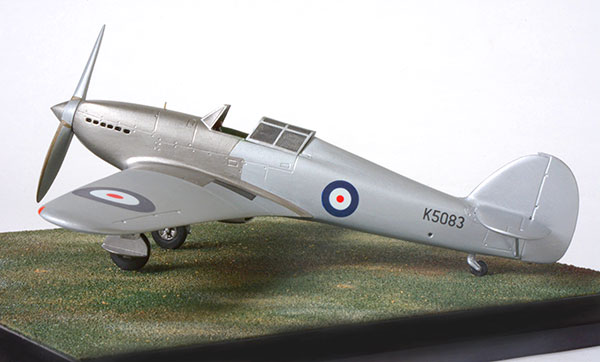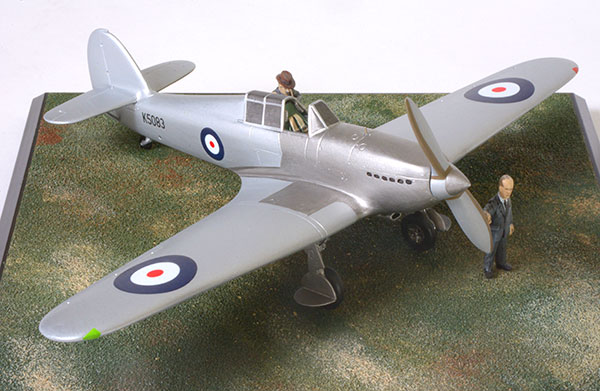 YOUTUBE FILM BELOW