Junkers Ju 87G-2
Junkers Ju 87G-2  'Chevron and Bars'   Oberstleutnant Hans Ulrich Rudel,
SG2 Immelmann,  Eastern Front,   May 1945.
Even before the Battle of Stalingrad, German concern about the large quantity of Soviet mobile armour on the Eastern Front during 1942 resulted in the formation of an experimental air-to-ground anti-tank unit. Tests showed that arming the Junkers Ju 87 Stuka with a 37mm cannon under each wing promised the optimal tank-busting weapon. This Ju 87 variant was designated the Junkers Ju 87G Kanonenvogel (cannon-bird).
The Ju 87G-2 was developed from the long-wing Ju 87D-5 stuka dive bomber. It was a rugged design powered by a single Junkers Jumo 211J-1 twelve-cylinder inverted-vee liquid-cooled engine. The type displayed outstanding qualities as a tool for precision ground attack. However, in the air the Ju 87G-2 was both cumbersome and slow. Defensive armament was limited to 7.9 mm Mauser MG 81Z twin-mounted machine guns at the rear of the large glasshouse canopy. A total of 174 G-2s were built before production of all Ju 87 variants ceased in October 1944.
The Ju 87G began its career in February 1943 in the battles for the Kuban peninsula in Southern Russia. It was at this time that Oberstleutnant Hans-Ulrich Rudel began tank-busting operations, having recently become the first Luftwaffe pilot to fly 1000 operational missions. Later, in July 1943, Rudel took part in the epic tank battle for the Kursk salient. More than 350 Ju 87's participated in these operations, including a handful of production Ju 87Gs.
Rudel went on to fly no fewer than 2,530 sorties and notched up a total of 2,000 targets destroyed; including 800 vehicles, 519 tanks, 150 artillery pieces, a destroyer, 2 cruisers, the Soviet battleship Marat, 70 landing craft, 4 armoured trains, several bridges and 9 aircraft. Given the shortcomings of the Ju 87G in terms of its speed, agility and defensive capability this speaks volumes for the piloting skills of Rudel himself and the marksmanship of his rear gunners.
Hans-Ulrich Rudel was the most decorated serviceman of all the fighting arms of the German forces. He was the only recipient of the Knight's Cross of the Iron Cross with Golden Oak Leaves, Swords, and Diamonds. Unswervingly dedicated to waging war against the enemies of the Third Reich, Rudel continued in active service following injuries sustained in February 1945 that resulted in a leg amputation. Such was his prowess and notoriety, that the Soviets placed a significant bounty on his head. Wisely deciding to evade capture at Russian hands, in a final act Rudel led three Ju 87s and four Focke-Wulf FW 190s westward from Bohemia. He surrendered to U.S. forces, on 8 May 1945.
Rudel's Ju 87G-2 Kanonenvogel of Schlachtgeschwader 2 (SG 2) "Immelmann" Werk-Nr. 494193 wore standard splinter camouflage of RLM 70/71 black green/dark green on its upper surfaces with RLM 65 light blue undersides. The crosses and swastika were painted in the simplified fashion of the last months of the war. The yellow fuselage band provided a means for rapid identification of Axis machines on the Eastern Front. The tactical yellow "V" marking under the port wing was introduced on aircraft operating over the Hungarian sector and is indicative of Luftflotte 4 machines. The commodore's chevron and bars were painted black with a white border.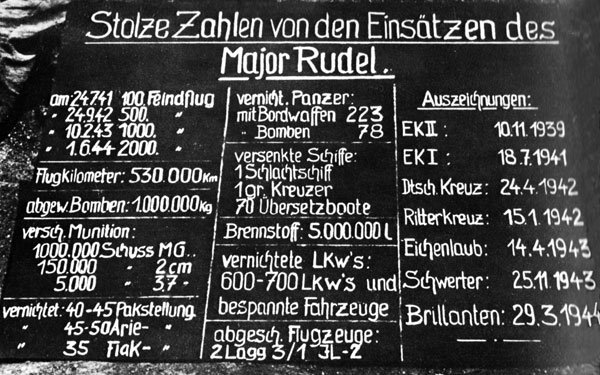 Scale 1:72    Wingspan 8.2″ (208 mm)
    Base size 7.71″ (196 mm) square (No. 5)
Weight not including base 12.2ozs ozs (345 grams)   Limited edition of 25 only
Price £107.00 plus delivery   Figures optional at £15 each.