Piper Cherokee 180
First certified 1962
The Piper Archer II is one of the latest versions of the famous Piper PA-28 Cherokee family of aircraft. Since the first flight of the PA-28 over 32,000 aircraft have been produced making it only second in production to the Cessna 172. The PA-28 differs dramatically from the Cessna 172 being a low wing aircraft with single door on the co-pilot side which is entered by stepping on the wing. The first PA-28 received its type certificate from the Federal Aviation Administration in 1960, and the series remains in production to this day. Current models are the Arrow and the Archer TX and LX. The Archer was discontinued in 2009, but with investment from new company ownership, the model was put back into production in 2010
The original Cherokees were the Cherokee 150 and Cherokee 160 (PA-28-150 and PA-28-160), which started production in 1961 (the model number refers to horsepower). In 1962, Piper added the Cherokee 180 (PA-28-180) powered by a 180-horsepower (134-kW) Lycoming O-360 engine. The extra power made it practical to fly with all four seats filled (depending on passenger weight and fuel loading), and the model remains popular on the used-airplane market. In 1968, the cockpit was modified to replace the "push-pull" style engine controls with levers. In addition, a third window was added to each side, giving the fuselage the more modern look seen in current production.
Piper continued to expand the line rapidly. In 1963, the company introduced the even more powerful Cherokee 235 (PA-28-235), which competed favorably with the Cessna 182 for load-carrying capability. The Cherokee 235 featured a Lycoming O-540 engine derated to 235 horsepower (175 kW) and a longer wing which would eventually be used for the Cherokee Six. It included tip tanks of 17 gallon capacity each, bringing the total fuel capacity of the Cherokee 235 to 84 gallons. The aircraft had its fuselage stretched in 1973 giving much more leg room in the rear. The stabilator area was increased as well. In 1971, Piper released a Cherokee 140 variant called the Cherokee Cruiser 2+2. Although the plane kept the 140 designation, it was, in fact, a 150-hp plane, and was shipped mainly as a four-seat version. In 1973, the Cherokee 180 was named the Cherokee Challenger, and had its fuselage lengthened slightly and its wings widened. Originally, all Cherokees had a constant-chord, rectangular planform wing, popularly called the "Hershey Bar" wing because of its resemblance to the convex, rectangular chocolate bar.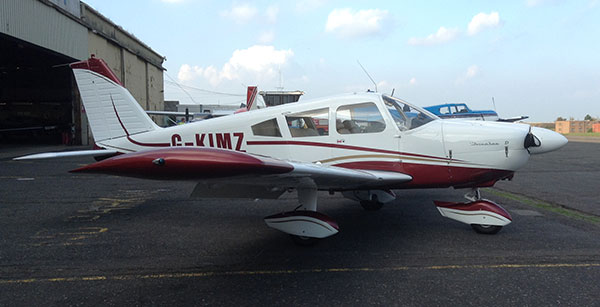 Scale 1:48 Wingspan 7.5″ (190.5 mm)
Base size 9.33″ (237 mm) square (No. 6)
Weight not including base 1lb (466 grams)
Price £210.00 plus delivery