de Havilland Chipmunk
de Havilland Canada DHC. 1 Chipmunk
First Flight 22 May 1946, Downsview Ontario.
During the second World War a considerable number of allied pilots were trained in Canada, and with the end of the conflict it was logical for the expanded, but suddenly unused, aircraft industry to consider producing a replacement for the aircraft used in this activity. Many of these had been the DH.82C Tiger Moth, a Canadian version of the widely used British original adapted for North American conditions with the addition of a canopy; over fifteen hundred of these had been built by De Havilland Aircraft of Canada, which had been established at Downsview in Ontario in 1928. Its principal war time activity had been the production of Mosquitos, but by the end of the war a design team had been established under Chief Engineer Wsiewolod Jakimiuk. He had escaped to England from Poland, where he had been involved in the design of PZL fighters, in 1940 and was sent by de Havilland to Downsview to assist in the expansion of its production facilities.
With the encouragement and support of the English parent company, and making whatever use was possible of available material, notably the Gypsy Major 1C engine, the decision was taken in November 1945 to build two prototypes of a primary trainer, and progress was sufficiently rapid for the first, with a distinctly de Havilland appearance, to make its first flight on 22 May 1946. CF-DIO-X was flown by Pat Fillingham, a Hatfield chief production test pilot who had already worked at Downsview on Mosquitos; he was seconded to Canada for the early flights, he stayed on for some months sharing the work with Canadian Russ Bannock. The second aircraft CF-DJF-X flew on the 30 June and it was this aircraft which was used for much of the test and development work, with minor modifications.
CF-DIO-X was taken to England in November 1946, and joined by two others was used in developing the aircraft as a primary trainer for the Royal Air Force; re-engined with the Gypsy Major 10 it became the Chipmunk T.10, and following trials at Boscombe down was ordered under specification T.8/48 in early 1949. A thousand Chipmunks, including 740 for the RAF, were built at the de Havilland factories at Hatfield and Hawarden, the first entering service with the Oxford University Air Squadron in February 1950. While production at Downsview was initially slow, with all the early aircraft going to civilian customers, the RCAF placed an initial order for thirty-seven in 1950, to be used by flying clubs on loan; these received the upgraded engine and to take account of Canadian conditions were also equipped with cockpit heating and a "bubble" canopy, though this last did not find favour outside the RCAF, and in 1956 were taken in to service by the regular Air Force with the production of a third batch of sixty. Altogether two hundred and eighteen were built at Downsview. After an order with Hatfield for ten for the Portuguese Army in 1951, in 1960 a further production line was established in Portugal by OGMA, which produced sixty-six for the Portuguese Air Force.
There were a few "specials", particularly for aerobatic displays and with a change of engine, and one was used as a test-bed for a small Rover gas turbine, but the great majority remained the recognisable offspring of Jakimiuk's original design with very evident de Havilland DNA.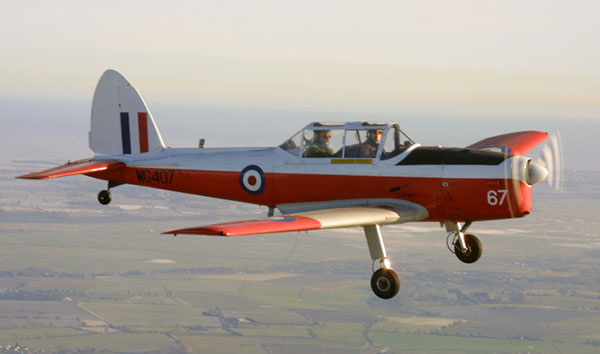 Scale 1:48    Wingspan 8.6″ (218 mm)
Base size 9.33″ (237 mm) square (No. 6) 
Weight not including base 14.7 ozs (416 grams)
Price £210.00 plus delivery