Hawker Sea Fury FB 11
Hawker Sea Fury FB 11  WJ232  114/O   802 Naval Air Squadron
HMS Ocean,   Lt. Peter "Hoagy" Carmichael,   Korea 1952.
The Sea Fury started life as a lighter and more compact version of the Hawker Tempest Mk II – legend has it that designer Sydney Camm was influenced by the "packaging" of a captured Focke-Wulf Fw 190. Intended as a land-based fighter the coming of jet aircraft ruled the Hawker Sea Fury out of RAF service, but it was adopted for carrier use by the Admiralty at a time when deck-landing with jets was seen as problematical. The first fifty were accepted as Hawker Sea Fury F.10s for carrier-borne interceptor duty, but Hawker developed the sturdy Sea Fury airframe for use in ground attack and the mark that saw widespread use, entering service in 1948, was the Sea Fury FB.11 which had the ability to carry 1000 lb bombs or rocket projectiles under the wings.
At the time of the outbreak of the Korean War in July 1950 Royal Navy carriers were equipped with Seafire FR 47s and Sea Furies; the Seafires were generally seen as more effective at altitude, and the Furies lower down. In the summer of 1952 HMS Ocean was operating in the Yellow Sea off the west coast of Korea; on 9 August as a flight of four Sea Furies of 802 Naval Air Squadron aircraft was returning from a ground attack sortie against the rail network between Manchon and Pyongyang they were "bounced" by a flight of North Korean MiG-15 jet fighters, who decided, unwisely perhaps, to stay and dogfight with the Furies. The manoeuvrability of the Furies frustrated the MiG pilots, and Lt. Peter "Hoagy" Carmichael, leading the formation, shot down one of the jets; the flight also claimed a "probable" and a "damaged". In spite of this success, whenever possible thereafter Sea Fury missions were protected by a top cover of F-86 Sabres. This incident gave Carmichael the credit for the first MiG kill of the Korean War by a propellor driven aircraft.
Hawker Sea Fury WJ232 was built at Kingston and first flown at Langley; it was one of many Sea Furies bought back by Hawkers at the end of their naval service, and one of eighteen single-seaters that was subsequently refurbished and sold to Burma, becoming UB 467 and delivered around April 1958.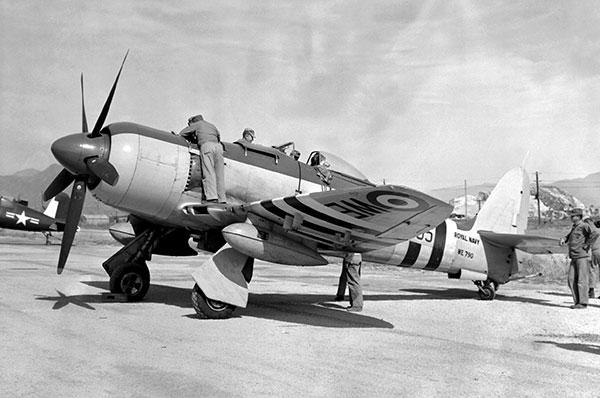 Scale 1:72    Wingspan 6.4″ (162.5 mm)
Base size 7.71″ (196 mm) square (No. 5)
Weight not including base 12.5 ozs (355 grams)    Limited edition of 50 only
 Price £117.00 plus delivery